A Leading Solar Panel Installation Company in Austin, Texas
Universal Solar System in Texas Austin
Universal Solar System has a decade long proven history and reputation for providing quality solar service. Universal Solar System is one of the top residential and commercial solar panels Austin. We are delighted to offer some of the best warranties you can find in the Solar industry. Being the largest residential solar installer in Austin we take care of everything on your way by going solar!
Why Universal Solar System solar panels for home Austin?
Texas has a hot, humid, subtropical climate with hot summers characterized by continental climate, making Texas and solar panels perfect fit for each other. With such a wonderful climate, the majority of the population of Texas, loves going outdoors in some of the gorgeous lakes, rivers and parks. However, one disadvantage is that of huge electricity bills especially when the air conditioners, refrigerators have to work nearly 24×7. With the Austin solar, you can get the best of both worlds. The energy generated by solar panels is completely renewable with 0% pollution generating electricity depending upon the sunlight. With all this free solar energy harvested and used up, a considerable reduction in your electricity bill will be made.With Universal Solar System, you can start saving immediately keeping Austin the greenest city in Texas.
Are solar panels in Austin, Texas worth it?
There are numerous reasons why going to solar is worth it! Without much ado let's get started:
Plenty of sunshine
With an average of 205 sunny days in Texas, it's time to turn this sunshine into savings by investing in solar panels especially to get rid of high electricity bills. It's now time to find out and reap the benefits of clean and renewable energy.
Drop in the solar panel cost
With advanced technology and increased solar efficiency, there has been a decrease in the price of solar panels. According to the data by the recent estimates of solar energy industries association (SEIA), over the last five years prices of solar panels have dropped to 38 percent per person which is better than ever before for the residents of Austin for switching to the cleanest form of energy.
An indeed hotspot for solar energy
According to SEIA, with more than 75000 installations and enough solar power in Austin is made by harnessing the solar energy. Over 642,199 homes have now been installed with solar panels.
What are the rebates and incentives for solar panel installations in Austin Texas?
The incentives and rebates provided for solar panel installation cost will surely convince you how to install solar panels along with great perks of it!
● Federal tax credit of 26%
● Solar rights law
● Property tax exemption
● Solar rebates
● Net metering
The government of Texas offering 26% federal solar tax credit up till the end of 2022 is the biggest solar panel discount in Austin. If you are ready to go by the eligibility criteria for this 26% federal solar tax credit, this would mean one fourth of your solar panels cost is deducted from the total.
How much value is added by the rooftop solar panels in Austin?
After you install a solar panel system in your house not only do you get the benefit of raising your home's value by a pretty impressive amount, but also the benefit of not paying high electricity bills and saving a handsome amount of money. If it was in other countries or States, apart from the cost of installation you would have to pay some additional property tax on the increased new value. This is however not the case in Texas! Full property tax exemption is there in Austin fetching you clean, green and free electricity! Isn't it a great deal?
The Austin Solar rights law
Sometimes there are specific rules about your residence when you are residing in a neighborhood which has a homeowners association where there are rules governing you to change your house occasionally. Sometimes it's not really a matter of concern while other times it might be troublesome.
The state of Texas has a solar rights law or which states that your installation of solar panels won't affect the homeowners association. This means that irrespective of homeowners association you can install your solar panels from Austin solar panel company without anybody's approval but yours!
Net metering for Austin solar panels
Although a state wide net metering policy is absent in Texas however it does allow solar companies to offer net metering, buyback programs, and rebates for the customers. Most of the time solar panels will generate more energy than is required at that time. This excess energy credits the amount towards your monthly bill. When the solar panels generate that much energy such that your bill is $0, then it is called net metering.
Few of the best solar panel installation companies in Austin are:
It's sometimes difficult to choose the right solar company among the top solar systems for home Austin. In a solar competitive City and capital of Texas Austin, the problem of choosing the right one often requires a lot of research. Given below are the three most important questions to ask yourself before choosing the right solar installation Austin.
● The company that you are choosing should have warranties not only in labour but also in their products. This makes sure that the investment you are doing is protected over the years to come.
● Reviews are the most helpful tools for choosing any product or service. Make sure that the majority of the reviews of the solar panel Austin you are investing in, are positive. This serves as an useful indicator of whether or not you should invest in the company.
● Check all solar installation companies before choosing the right one.

Universal Solar System is dedicated enough for providing the best customer service and purchasing experience with remarkable warranties and excellent installation service experience.
Eligibility for PV (solar panels) system
In order to qualify for the rebate, the solar panel system should be at least 1 kilowatt DC in size. One exception to this are those systems which are used for educational purposes by schools or universities. The size of the system might not be that much for producing energy in excess of that required for meeting annual on-site energy conservation. Despite other limitations like maximum per project per consumer incentive limits, each customer is eligible for participating in the program multiple times.
● The Solar panel system in consideration should be new
● The system should meet the minimum estimated performance equipments of the 80% optimum level
● Utility interconnection requirements for solar panel system must be met
At least 10 years from the date of installation of solar panels, the eligible systems must be borne by an all-inclusive warranty. New and listed PV modules must be there. Variety of inspection and monitoring of performance requirements in the short and long-term might be there for solar panel installations.
SOLAR PANELS AUSTIN
– Solar Panel Installation Williamson
– Solar Panel Installation Travis
– Solar Panel Installation Cedar Park
– Solar Panel Installation Georgetown
– Solar Panel Installation Round Rock
– Solar Panel Installation Austin
– Solar Panel Installation Manor
– Solar Panel Installation Pflugerville
– Solar Panel Installation Spicewood
– Solar Panel Installation Hutto
– Solar Panel Installation Leander
– Solar Panel Installation Liberty Hill
Universal Solar System - Austin
Office Address:
13276 Research Blvd #202,
Austin, TX 78750
Universal Solar System
Office Address:
305 W Spring Creek Pkwy,
Suite 100 B,
Plano, Texas 75023
Great price, great service! Trouble-free system. They installed 10 kW on our home in 2014. Electricity bills are way down and the guys from universal are great to work with.Brandon Pillans - TX
Google Review
USS provide amazing service and very much satisfied with the solar panels installed....I would highly recommend...GO GREEN. SAVE GREENDhruma Lakkad - Dallas, TX
Facebook
Happy clients Receiving Referral Checks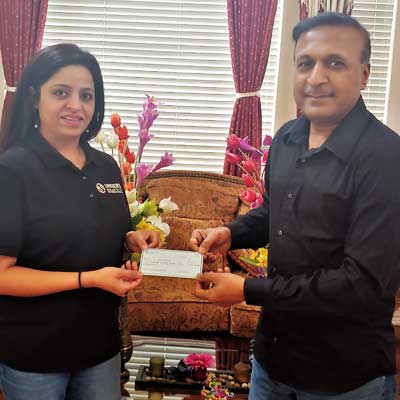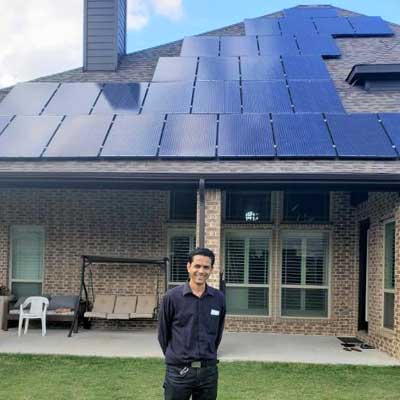 Thinking About Going Solar?
We would love to create your free and no obligation proposal to show you how much you can save by going solar.