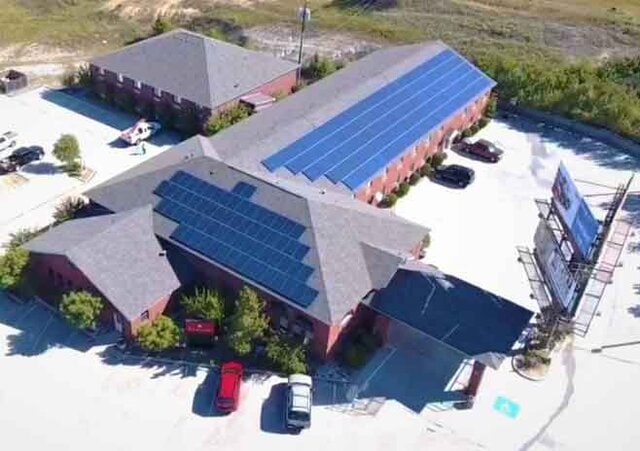 SBA 504 - Green Loan
The SBA (Small Business Administration) 504 Loan program is specifically designed to help small businesses finance projects that incorporate energy efficiency or renewable energy solutions, including solar projects. It truly is a hidden "GREEN" gem within the world of commercial real estate financing.
We offer assistance with SBA 504 Green Loans to help you expand your business. Our team of dedicated consultants work to customize and tailor loan requirements to meet the individual needs of each small business customer. We also help with all necessary paperwork, from start to finish, making the process extremely smooth for small business owners.
Through our participation in the SBA 504 Green Loan program, we work with qualified small businesses to help them purchase real estate, construct new buildings and renovate existing properties. Qualified businesses must be able to justify their ability to reduce energy consumption by at least 10% or generate at least 10% in renewable energy by meeting LEED Certification standards. Typical examples include the use of energy reducing materials such as energy efficient windows, insulation, lighting and HVAC units or the use of renewable energy products like solar, wind, turbine or thermal.
Benefits of SBA 504 Green Loan are as follow:
– Financing available – up to $16.5 million per project
– Up to 90% financing of the total project costs, which translates to less money down by the borrower
– Obtain competitive long-term fixed rates (which are currently below 5% as of June 2019)
– Obtain longer amortizations of 10, 20 or 25 years, which aids in cash flow repayment
– Qualify for loan repayment based on projections
– Qualify for multiple SBA loans (over and above the $5 million cap required for other SBA loan programs)
– Invest in "GREEN" technologies
SBA 504 Green loans may be used to finance a multitude of industries. Here are a few of the industries we can use the SBA 504 loans for: Hotels, Gas Stations, Large Manufacturing Facilities, Day Cares, Assisted Living Facilities, Self Storage, Restaurants and Event Centers.
Thinking About Going Solar?
We would love to create your free and no obligation proposal to show you how much you can save by going solar.